Penny Cerling & Marco Villegas: Origins
| | |
| --- | --- |
| Penny Cerling & Marco Villegas: Origins | Join us on Friday, May 30th for the two-person exhibition by Penny Cerling and Marco Villegas in conjunction with PrintHouston 2014. |
Zoya Tommy Contemporary Gallery is proud to present Origins, featuring Penny Cerling and Marco Villegas.  Presented in conjunction with PrintHouston, a citywide celebration of traditional and nontraditional printmaking techniques, Origins is a culmination of woodblock prints, etchings, and paintings that both philosophically and scientifically examine various viewpoints of beginnings.
PENNY CERLING  
Raised in the Chicago area, Penny Cerling graduated from Iowa State University with a BA in Advertising Design. She moved to Houston in the early 1970's, working with a graphic designer until the late 1970's when she started teaching Graphics at the University of St. Thomas. In 1980 she founded and was Master Printer at Little Egypt Enterprises and has focused on various types of printmaking ever since.
Now, working predominantly with prints and etchings,  Cerling's work explores the makings of the world around us.  Scientific yet philosophical, her work reads like enigmatic blueprints or diagrams, reflecting her interest in how things work –  the underlying composition of vegetative forms; the continuing evolution and pathways of genetics; the structure of the universe, even the molecules, around us, within us.
MARCO VILLEGAS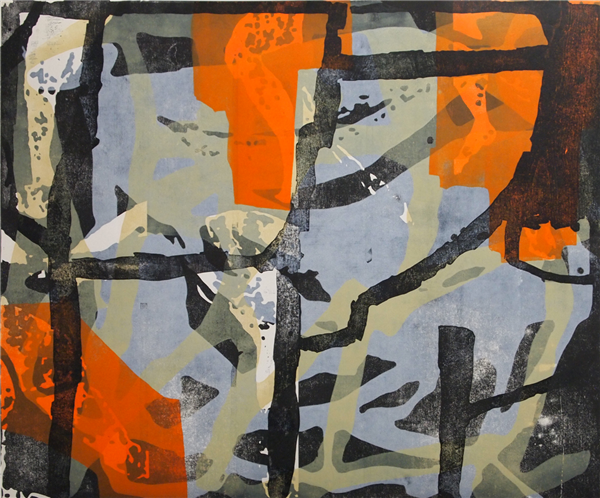 Marco Villegas  Repeated Dance 2014 Woodblock Monotype Print,  30″ x 36″
Pulling from the world around him, Marco Villegas collects his thoughts with drawings, photographs, writing samples, and iphone sketches, only to respond and repurpose them later in the studio.  Carving them into wood panels the ideas are layered, printed, and further manipulated to create contemporary images that hint at worlds passed, maps and topography, or perhaps ancient writing and calligraphy.
A graduate of the University of Houston Villegas has shown extensively throughout Texas and is currently listed in Houston Modern Luxury as one of the top five artists to watch in 2014.